CD or MD model wire rope electric hoist:

CD or MD model wire rope electric hoist is a kind of light-duty lifting equipment with advantages of tight structure, light weight, small volume, wide common use and convenient operation etc.If reducers with hard gear surface are applied, it will have long life and high mechanical efficiency. Conic rotor brake motors are equipped which has safety limiter in both up and down directions.
MD model wire rope electric hoist have normal and slow lifting speeds which make it lift steadily and accurately.

CD&MD model wirerope electric hoist can be widely used to hoist heavy objects, or installed on the straight or curve I-section steel beam or single beam overhead cranes or single beam gantry cranes. They can also be used together with electric hoist type double beam overhead crane or Double beam gantry cranes or jib cranes. All the above has made the electric hoists common in industrial and ore enterprises, railway, wharfs and warehouses.

Capacity: 0.5T, 1T, 2T, 3T, 5T, 10T, 16T, 20T.
Lifting height: 6m, 9m, 12m, 18m, 24m, 30m, and Max. 100m.

The frame of CD or MD model wire rope electric hoist: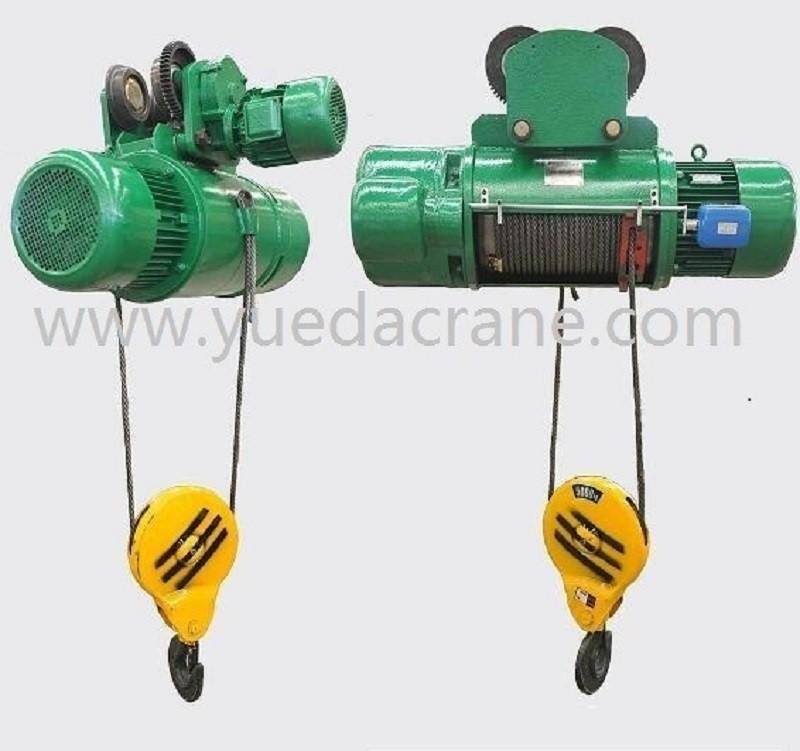 The drawing of CD or MD model wire rope electric hoist: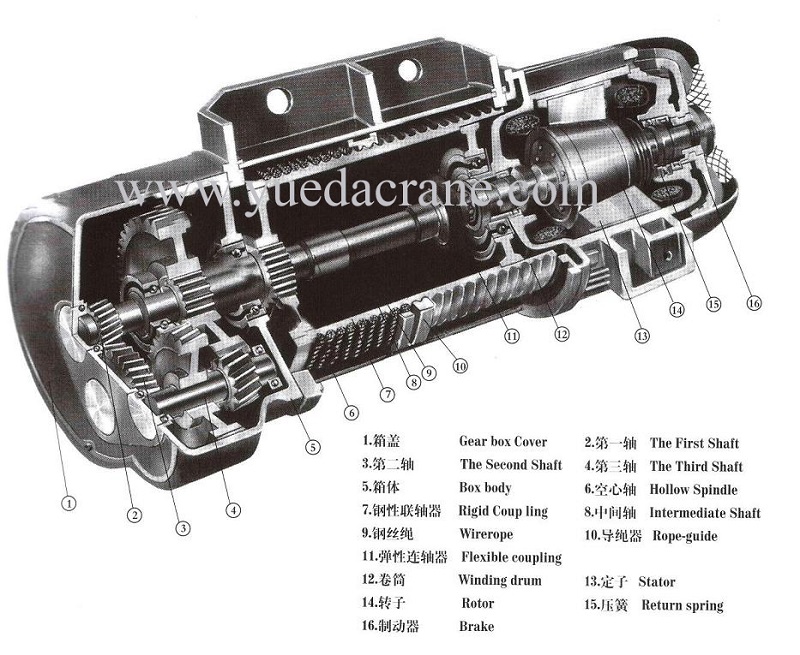 The general technical details of monorail type wire rope electric hoist:

The general details of wire rope electric hoist

Model

CD

MD

Capacity (ton)

0.5, 1, 2, 3, 5

10, 16, 20

0.5, 1, 2, 3, 5

10, 16, 20

Travelling

mechanism

Travelling Speed (m/min)

10, 20, 30

10, 20, 30

Motor (kw)

1x0.4, 1x0.8

2x0.8, 4x0.8

1x0.4, 1x0.8

2x0.8, 4x0.8

Lifting

mechanism

Lifting Speed (m/min)

8

7, 3.5

8/0.8

7/0.7, 3.5/0.35

Lifting height (m)

6, 9, 12, 18, 24, 30

9, 12, 18, 24, 30

6, 9, 12, 18, 24, 30

9, 12, 18, 24, 30

Motor (kw)

0.8, 1.5, 3.0, 4.5, 7.5

13

0.8/0.2, 1.5/0.2, 3.0/0.4, 4.5/0.4, 7.5/0.8

13/1.5

Duty Class

M3

Power source

380V, 50HZ, 3 phase (or other standard)

Working temperature

-20~40℃

Branch of rope

2 ropes(0.5t~5t), 4 ropes(10t~20t)

Brake

Mounted on motors

Control model

Pendant pushbutton control or wireless remote control
If you need this type electric hoist, please tell us below details:
1. The lifting capacity that you need(ton)
2. The lifting height from ground to hook center(m)
3. The power source standard(Voltage= V, 50/60Hz, 3phase)
Please send your requirements to Email: info@yuedacrane.com